Slipcover America has 3 Objectives:

1) Educate the public! Don't throw it away but recycle, or reuse via slipcovering or re- upholstering. Karen continues to teach workshops, seminars (do it yourself  DIY)  writing articles, DVD's and Online Classes.
2) Maintain, and facilitate the Slipcover Network, www.slipcovernetwork.org which offers: a "directory of slipcover professionals" to the consumer; is a support system to professionals in the slipcover industry; facilitates the Slipcover Summit and Slipcover Retreat in various regions of the country.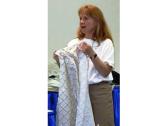 3) Design and fabricate slipcovers from natural organic fabric for customers "ONSITE" in customers homes throughout the country with a unique time saving techniques. Plus offers solutions to those customers suffering with allergies, via organic and natural fabrics.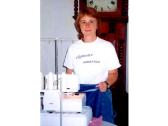 Karen Erickson has been working in the Home Decor Interior Industry  for the past  25 years. In 1986, she started Fine Finishing by Karen as a part-time home based business designing and fabricating draperies, slipcovers and other fabric accessories. In 1999, her company became a corporation with a name change to Slipcover America, Inc.
Karen has worked with designers, decorators and retail customers throughout the United States, specializing in ON-Site fabrication (in customer's homes). Karen instructs both in the US and Canada doing Seminars  & Workshops at fabric stores, for sewing guilds, in professional workrooms, numerous trade show and sewing groups. In January of 2007 she partnered with Claudia Buchanan of Sew What! to start www.HomeFashionsU.com and HomeSewingDepot.com.